Transportation Engineering
Transportation Engineering
Transportation Engineering is a relatively new subject under the field of Civil Engineering, and covers aspects of the highway engineering, traffic engineering, transportation and travelling in general.
The importance of transportation engineering has recently escalated, as the daily demands of life in the modern and globalised world is being much and at times overly dependent on an efficient and safe transport system. It is now accepted that an efficient transport system promotes productivity, whilst a poor transport system hampers the economy.
On the social aspect, transport is regarded as an essential ingredient to maintain one's satisfactory life style. This is added by the fact that a gloomy side of transport is also a cause of concern, which is the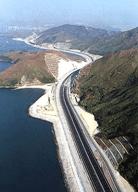 environmental effects of travelling and transport in general.
With these concerns, transportation engineering has evolved from being a pure engineering subject to the point now where it has to be closer to the social requirement as well as being sensitive to environmental concerns.
In general terms, transportation engineering covers the knowledge of pavement engineering, alignment design, highway design, construction and maintenance for the highway engineering component. The traffic engineering discipline, in turn covers issues of traffic characteristics, road and junction capacity, performance levels, traffic management, and congestion management. Other fields include public transport, safety, environmental issues, travel behaviour and the intelligent transport system.
Transportation Engineering is seen by many as an essential motivator for upholding the sustainable development concept. A new dawn for transportation is the Intelligent Transport System (ITS), which is defined as a collection of products and systems which utilises the state of the art technologies in IT, communication, electronics and control to help ensure an efficient, safe and environmentally friendly transportation system.