Faiz Azar Award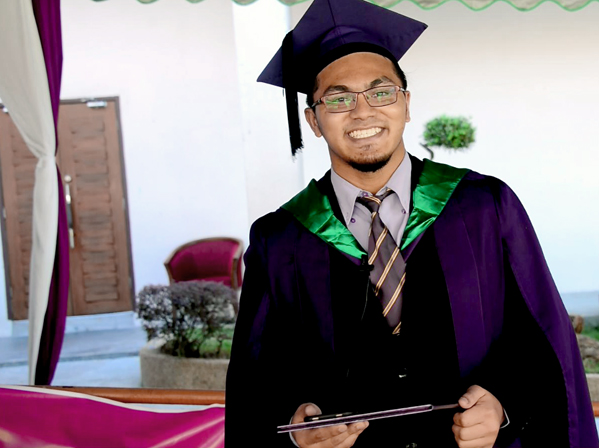 Assalamualaikum and greetings to everyone.
My name is Ahmad Faiz Bin Azar, and I am a former USM Civil Engineering student 2011/2012 intake. I have received 2015 Royal Education Award (Medal of Excellence) from Majlis Raja-Raja Malaysia for the best student in all fields for Bumiputera category in whole USM. I am very thankful to USM and all the lecturers for making all of this possible. For me, USM is indeed a very good place for a student to seek knowledge, because as we know from QS World University Rankings 2015, USM was listed in top 50 from whole Asia. School of Civil Engineering (PPKA) also acquired 5 full year accreditation from the Engineering Accreditation Council Malaysia. We acquired full accreditation because we performed superbly in every aspect. As a former student, I would like to verify this because all my years with PPKA are invaluable and priceless.
Civil Engineering program in USM is very well structured, in sense that every teaching and learning must obey the Outcome Base Education (OBE). OBE means every single teaching will have the outcome, meant to say there is a reason behind everything that we learn. Every session of teaching and learning by the lecturers are well organized to train the students in order for them not just understand what they learn but also be able to apply that knowledge in real situation.
After four years in USM, anybody will definitely had gain some experiences and memories, either a good or bad one. As for me, thankfully I had gain many precious experiences and memories along the road studying in USM. However, all of that did not come easy, it comes with effort, sweat and Nescafe. As a student, one should know when to grab the opportunities at the right time. Luckily, from my own experience, I dare to say that USM provide so many student activities than others. There are many activities such as recreational, welfare, religious and many more. Do not be surprise when the lecturers are joining them too, because PPKA lecturers are really friendly when you know them.
PPKA also organized variety of student activities either inside or outside the campus. I had joined many activities organized by the school. What interesting is, most of the activities actually prepared, handled, managed and conducted by students, and advised by the lecturers. By doing this, the students gained a lot of experiences because they are solving problems. Well, isn't that what engineers do, solve problems. I had joined many activities during my years in USM, in Sarawak, Kelantan, Perak, Kedah and almost went to Cambodia, but unfortunately there are some issues. But the main point is you can gain many experiences in various countries if you are willing to sacrifice for it.
As you read, maybe you have realized that I am stressing more on activities beyond the classroom. This is because from my point of view, the students whom are excellent in the classroom will only be excellent in academics while the students whom are only active in extracurricular activities are a little bit disappointing because definitely, education is our main priority. On the other hand, the students whom are exceptional in both academics and extracurricular activities are considered perfect and well-rounded. During my year in USM, I also faced problems, but how you face the problems is what differ you from others. We are reaching 2020, so we need young talents to rise and develop the countries. So, you need to rise up, lead the pack. Nowadays you cannot just be an ordinary person, we must polish our talents and do the impossible.
Now, I am working as an engineer in private sector. Out here, in the industry, there are a lot of challenges that need to be encountered. Not to mention, the fun in this field, Civil Engineering is undoubtedly one of the best engineering field. Now, my current task is designing high rise building and I enjoying it very well. As a student, you need to work hard to prepare yourself for your future. Be hungry to seek knowledge from anybody, there are abundance of knowledge out there waiting to explored and learned. Last but not least, have passion in everything you do, and you will realized the day goes by without you even noticing. Thank you and stay hungry.
Ahmad Faiz Bin Azar