SARG won three golds at the International Innovation, Creativity and Technology Exhibition (i2CreaTE 2019)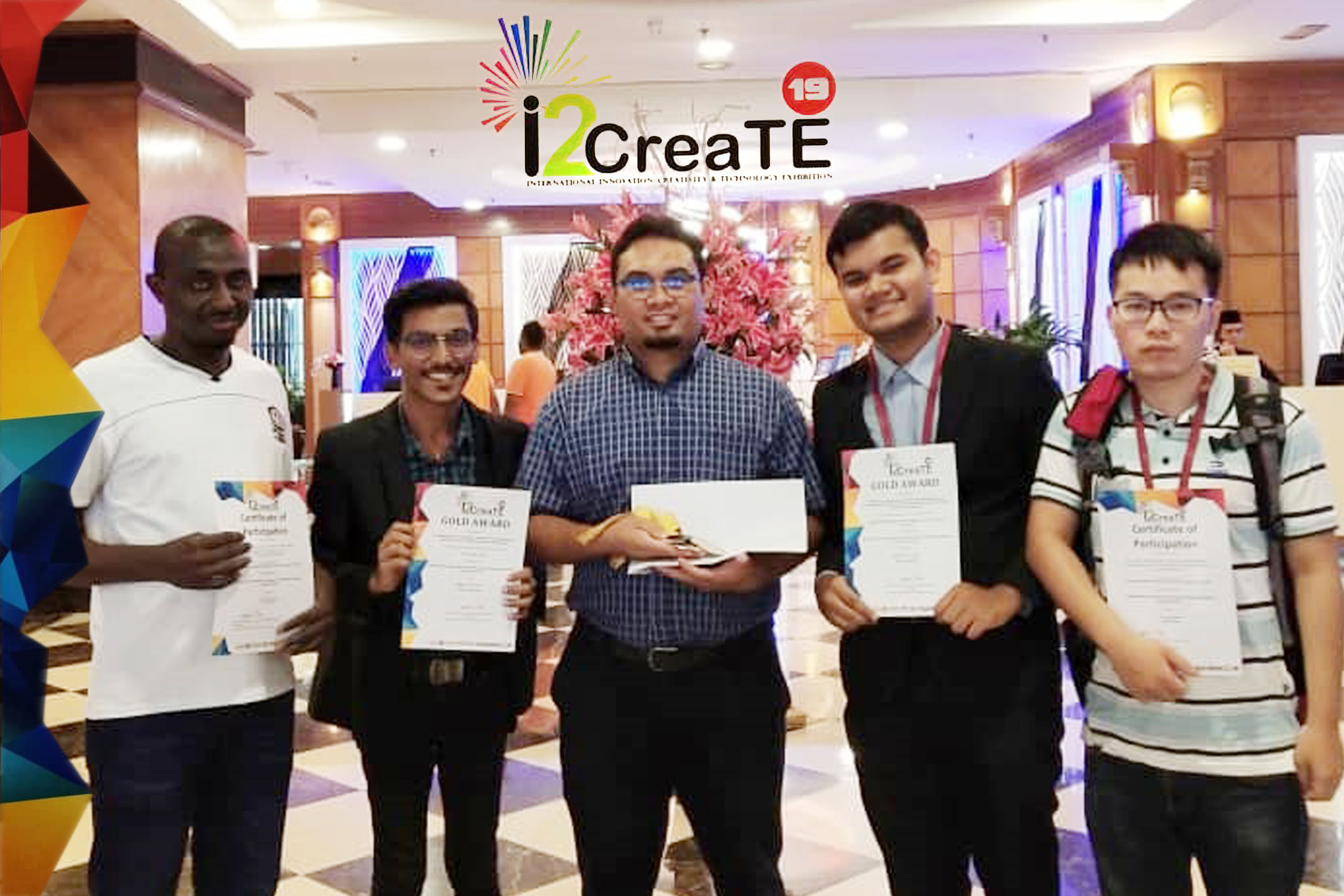 Kuala Lumpur, 16 April 2019 - School of Civil Engineering, Universiti Sains Malaysia (USM) had recently exhibited three different products through the research study that had been conducted in the field of Pavement Engineering led by Dr Mohd Rosli Mohd Hasan. The exhibition takes place at Seri Pacific Hotel, Kuala Lumpur from 12-14 April 2019. All three products that had been exhibited at the International Innovation, Creativity and Technology Exhibition (i2CreaTE 2019) were conferred Gold Award. The three products were
Low-Energy Latex Modified Asphalt Mixture: Foaming Technology

High-Performance Latex-Asphaltic Crack Sealant (Hi-PLACS)

Soft Grip Clamp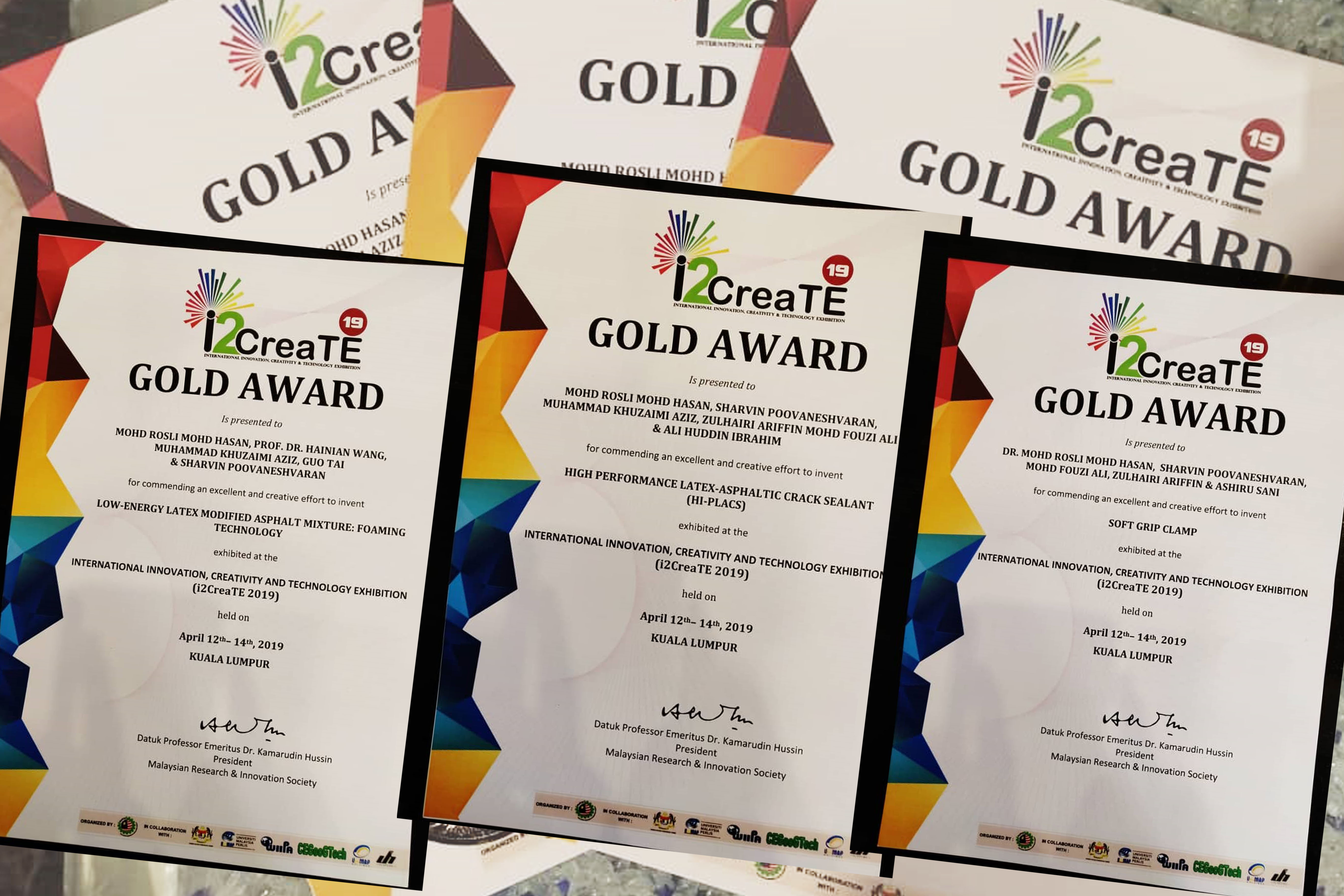 The research work on foaming technology was conducted in collaboration with the School of Highway Engineering, Chang'an University, CHINA. The Hi-PLACS is focusing on the new technology and new pavement material that able to satisfy the needs of asphalt and construction industries in moving towards a developed nation without compromising the performance of pavement, as well as the environmental and social needs. While Soft Grip Clamp was innovated in order to overcome the lack of standard testing equipment or protocol for pavement crack sealant material. The participants involved were Dr Mohd Rosli Mohd Hasan (USM), Sharvin Poovaneshvaran (USM), Muhammad Khuzaimi Aziz (USM), Prof Dr Hainian Wang (Chang'an University), Guo Tai (Chang'an University), Ashiru Sani (USM), Mohd Fouzi Ali (USM), Zulhairi Ariffin (USM) and Ali Huddin Ibrahim (USM).
The i2CreaTE 2019 was organized by the Malaysia Research and Innovation Society (MyRis) in collaboration with Ministry of Higher Education Malaysia, World Invention Intellectual Property Associations (WIIPA) and Universiti Malaysia Perlis (UniMAP) in order to promote investment opportunities in the state of knowledge to give a valuable contribution to the world. The exhibition took part by ten different countries such as Canada, South Korea, India, Indonesia, Thailand, Vietnam, Brunei, Laos, Cambodia and The Republic of China with the total numbers of around 300 innovations. It is a great platform for all researchers and scientist to share and gain knowledge.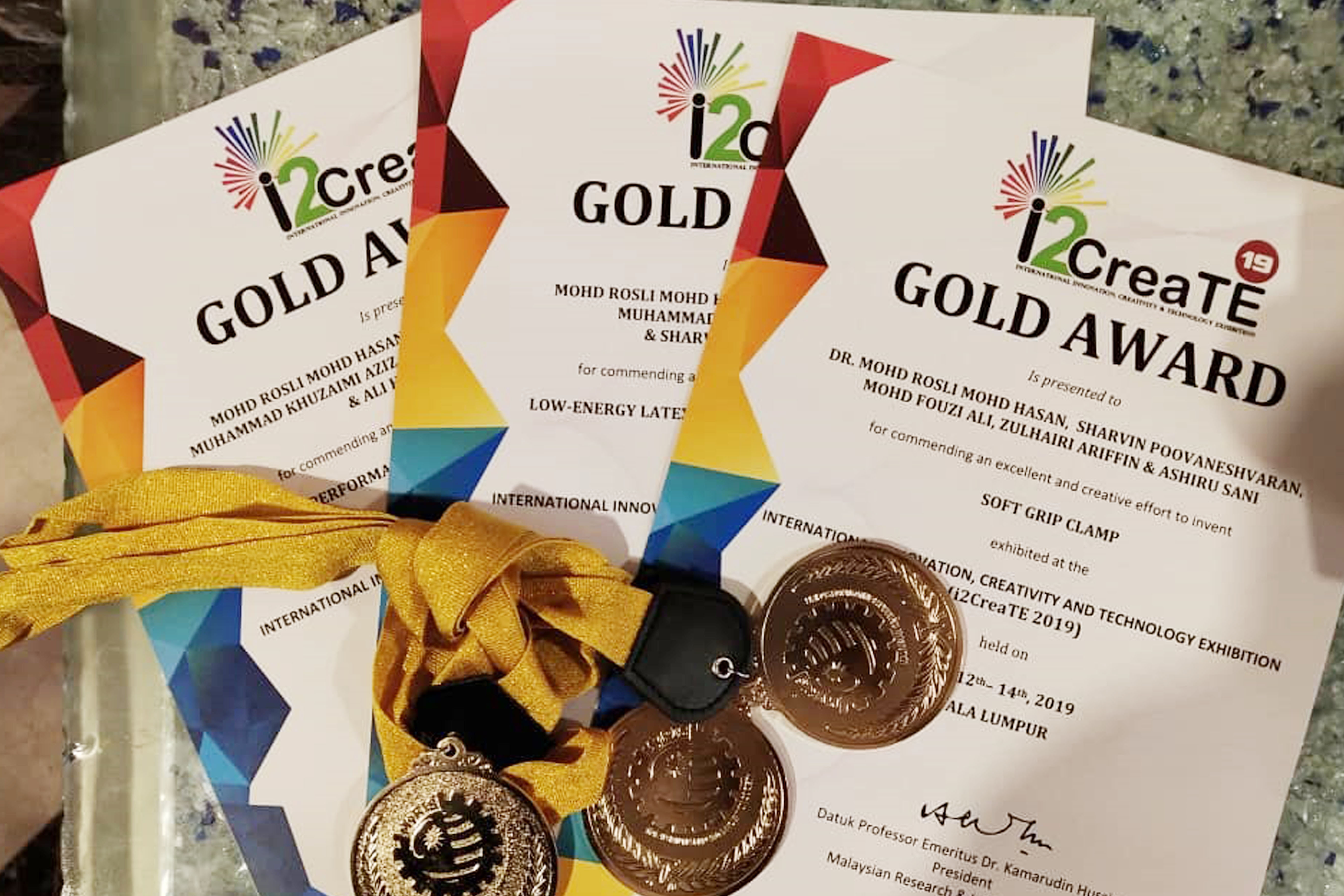 PPKA is proud of the efforts and achievement of this team. Congratulations to USM team on their success!
texts / foto : Sharvin Poovaneshvaran