TIMES HIGHER EDUCATION (THE) UNIVERSITY GLOBAL IMPACT RANKINGS: USM #1 IN MALAYSIA, #49 IN THE WORLD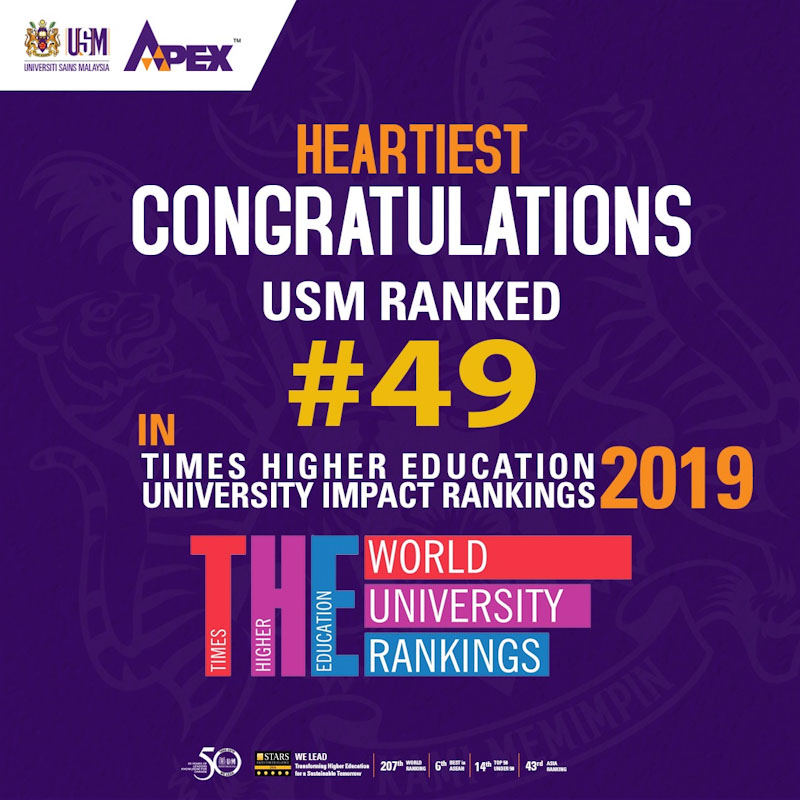 PENANG, 4 April 2019 – Being the sole APEX University in the country has finally yielded results at the global stage for Universiti Sains Malaysia (USM) when it is ranked #49 overall in the world, and came out at #1 in Malaysia for the recently released Inaugural Times Higher Education (THE) University Global Impact Rankings.
The rankings highlight the social and economic impact created by universities around the world, based on the United Nation's Sustainable Development Goals (SDGs). It represents a forward-looking view on looking at the achievements of a university beyond the teaching and research focus of conventional rankings.
The inaugural ranking exercise was done based on 11 out of the 17 Sustainable Development Goals (SDGs) set by the United Nations General Assembly in 2015.
Among the 11 SDGs, USM was positioned at #2 in the world for SDG 4 (Quality Education), behind the University of Gothenburg in Sweden. The THE WUR website states that the ranking for SDG 4 reflects the contribution of the university towards early years and lifelong learning initiatives, research on pedagogy and commitment towards inclusive education.
USM was also highly-ranked for SDG 10 (Reducing Inequalities) and SDG 11 (Sustainable Cities & Communities).
The USM Vice-Chancellor, Professor Datuk Dr. Asma Ismail said that education has always been the core business of USM. She added, "When it is ranked highly in SDG 4, it further testifies that USM has been giving its best in terms of providing education to all levels of society, especially to the bottom billion communities."
"What USM has achieved in this ranking exercise is a testament to the successful enculturation and practice of the University's APEX Agenda. USM's APEX agenda and core business have always centred on the values reflected in the SDGs.
"I would like to thank the entire university community, who are driven by a culture of excellence, for playing a pivotal role in the betterment of the University," said Asma.
"This also echoes the idea of Bringing USM to the World and the World to USM. USM is in the Top 50 in 3 SDGs and in the Top 100 in 8 SDGs. The results bring more substance to USM's efforts towards socio-economic development, aside from being a research-intensive university.
"As USM celebrates its 50th year, we would like to share USM's vision and worldviews for the next 50 years," she added.
USM was awarded the APEX status by the then Ministry of Higher Education Malaysia in 2008 in aiming to become a globally-competitive university, with its vision in "Transforming Higher Education for A Sustainable Tomorrow."