USM Emerged Champion and First Runner-Up in Beyond Structures 2018 Competition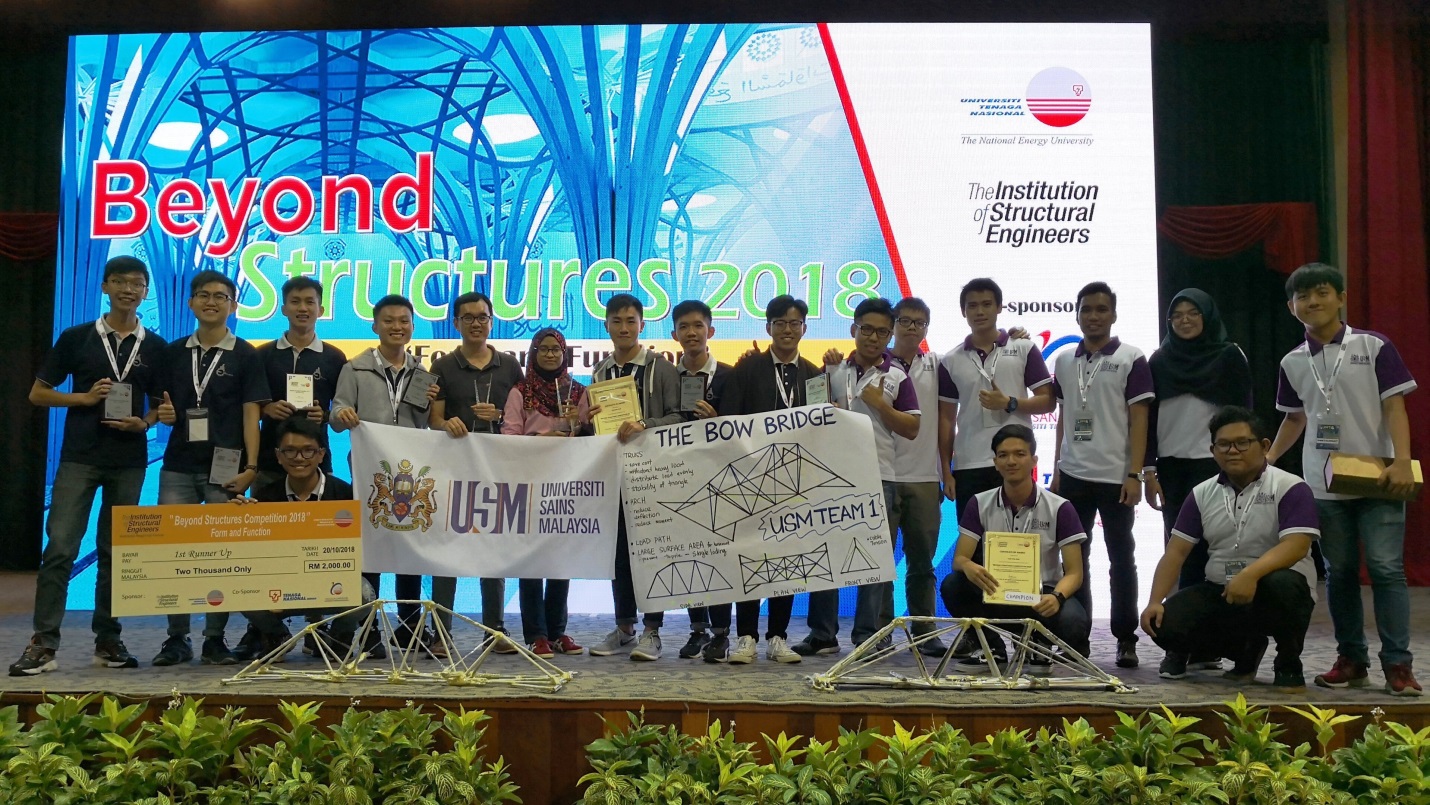 KUALA LUMPUR, 22 October 2018 - Students from the School of Civil Engineering, Universiti Sains Malaysia have once again make the university proud for achieving outstanding results in Beyond Structures 2018: "Form and Function" Competition held at Universiti Tenaga Malaysia (UNITEN) on 20 October 2018. A total of 37 teams from 23 Malaysian and Singaporean universities participated in this biennial event. Out of 37 teams, 23 teams participated in the First Team Category and 14 teams participated in the Second Team Category. Both USM teams have bagged the First Runner-Up in the First Team Category and the Winner in the Second Team Category, and walked away with a cash prize of RM 2000 and plaques. This is the best ever results achieved by USM in this kind of competition.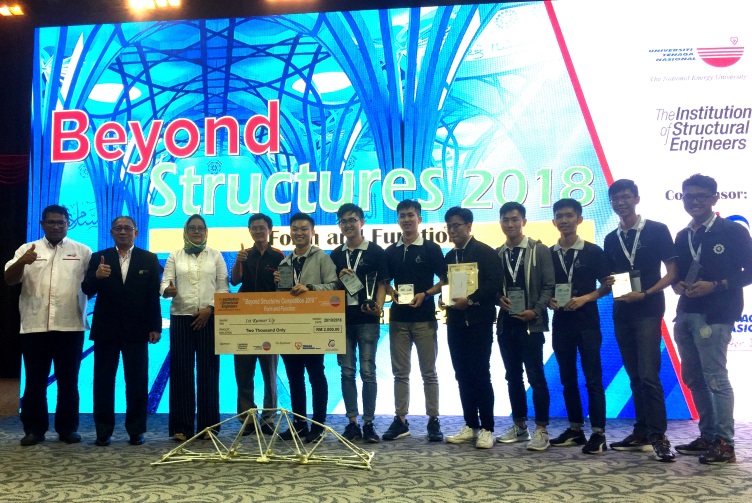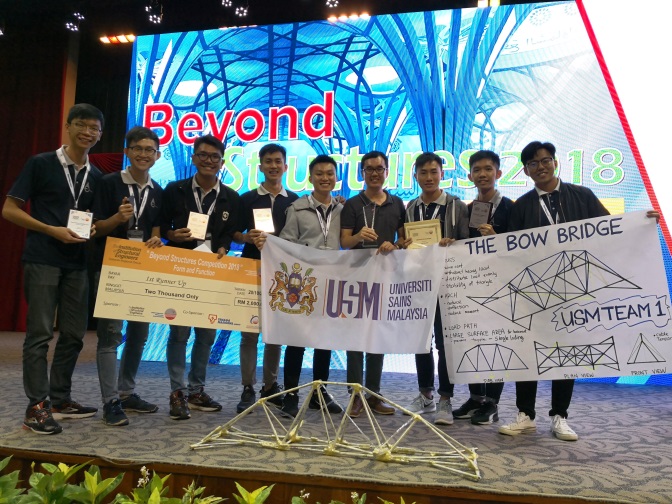 The First Team Category was participated by a team consisting of Lee Jian Yee as the team leader, Chan Zheng Ruii, Lew Kah Wei, Lim Chang Yu, Lim Wei Hang, Loh Jing Jack, Ng Jiun Yuen and Richard Ng Eng Yao. The team was supervised by Assoc. Prof. Dr. Lau Tze Liang. The other team participated in the Second Team Category was supervised by Dr. Noorhazlinda Abd Rahman. The team members are Yeoh Seng Keat (team leader), Mohammad Alif Farhan Bin Mohd Adnan, Muhammad Amar Firdauz Bin Yazid, Muhammad Hazwan Bin Zaki, Nurfathihah Binti Jamaludin, Richard Cheah Jun Xian, Tan Chia Shin and Tan Zhi Hern.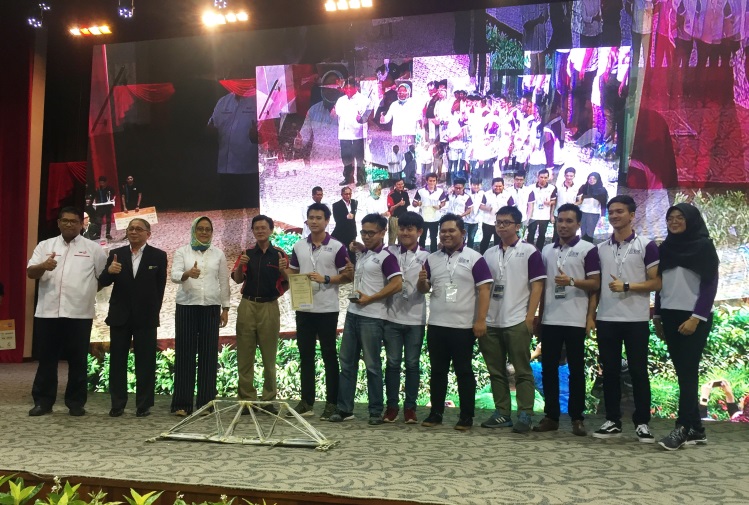 Beyond Structures Competition or formally known as Build and Break Competition is one of the most challenging and prestigious structural model building competitions in Malaysia. It has been organized by The Institution of Structural Engineers (IStructE) Malaysia Regional Group and Universiti Tenaga Malaysia since 2008. The objective of the competition is to develop creativity amongst civil engineering students in structures and to apply knowledge and theory from the study course into practice.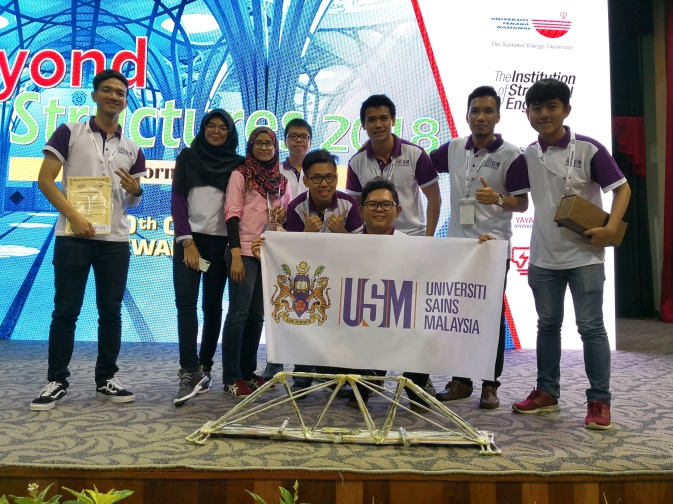 Beyond Structures 2018 competition required participating teams to build on the spot a structural model which shall meet the design requirements and specifications made known on the competition day using the given materials within the required time frame. All teams in The First Team Categories were required to prepare and make a presentation to the judges on various design aspects and issues. Completed models were then assessed and tested by judges elected by IStructE (Malaysia) against the specified criteria.
This competition is an experiential learning that develops problem solving, creativity, teamwork, communication and time management skills among civil engineering undergraduates.
Texts/Photo: Lau Tze Liang