USM Recorded the Highest Achievement during International Earthquake-Resistant Building Design Competition in Taiwan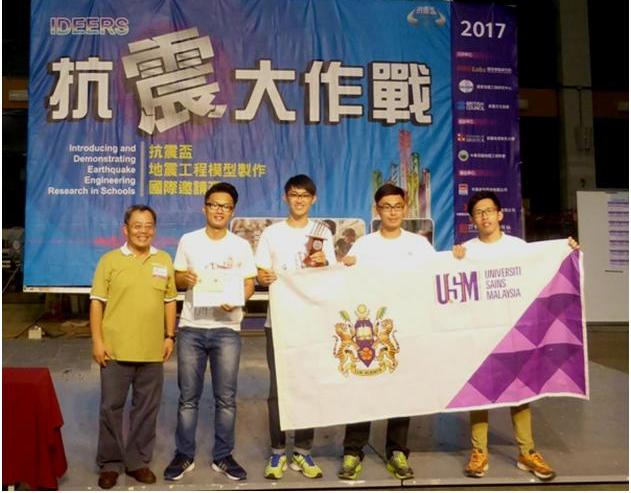 A team of four fourth year students from the School of Civil Engineering, Universiti Sains Malaysia has made the country and USM proud in the "Introducing and Demonstrating Earthquake Engineering Research for Schools (IDEERS) 2017" which was held on September 22 – 23 in Taipei, Taiwan. USM team led by Cheah Yi Ben with team members of Chan Wai Kit, Chong Hong Rui and Tan Chin Guan was supervised by Assoc. Prof. Dr. Lau Tze Liang. The team was honoured for outstanding achievement by winning First Runner-Up, Quake-Resistant Certificate and Best Design Concept Exhibition Award under the undergraduate category. There were forty-nine international teams from Southeast Asia, Australia, China, Hong Kong, South Korea and Taiwan participated in this competition. The trip to Taiwan was organized by IEM-USM Student Section.
This international competition was held at the Taiwan National Center for Research on Earthquake Engineering (NCREE). This program is jointly organized by NCREE, National Applied Research Laboratories (NARLabs) and British Council (BC). Each team was required to construct a building model using the provided materials in 6.5 hours. All models were then tested for various levels of bi-directional earthquake ground motion (from 250 gal to 800 gal) simulated using a shaking table.
This is the second time for USM team to take part in this competition. The experience gained from last year and the guidance from the previous USM team has contributed to this success. The present team has put in great effort in model construction and testing prior to the real competition. The constructed model sustained up to 700 gal of the simulated earthquake ground motion. USM team is the only team from Malaysia that passed the test of 400 gal and awarded the Quake-Resistant Certificate. This remarkable achievement has demonstrated the increased awareness and better understanding of earthquake-resistant design for building structures among USM civil engineering students. This competition has inspired and educated the future engineers about the importance of designing earthquake proof structures.
Special appreciation is given to various sponsors namely Wendy General Electrical Refg Air-Cond Engineering, Kooi Keat Architect, One Smart Engineering Sdn. Bhd., Jawi Chai Steel Engineering, MS Instruments (SEA) Sdn. Bhd. and YCT Computer Centre Sdn. Bhd. for their generous support to cover the airfare and inland transportation expenses to Taiwan for four team members. In addition, the landscaping materials were provided by Technibuilt (M) Sdn. Bhd. and the daily allowance was funded by the School of Civil Engineering. Special thanks to PPKA technical staff, Abdullah Md Nanyan, Mohd Taib Yaacob and Mad Fadzil Ali, for their assistance in model construction and testing.
(IDEERS 2017 official website: https://www.ncree.org/ideers/2017/)