USM's Architecture and Civil Engineering Students Won RM6000 in the Malaysian Structural Steel Association: Open Ideas Competition Award 2016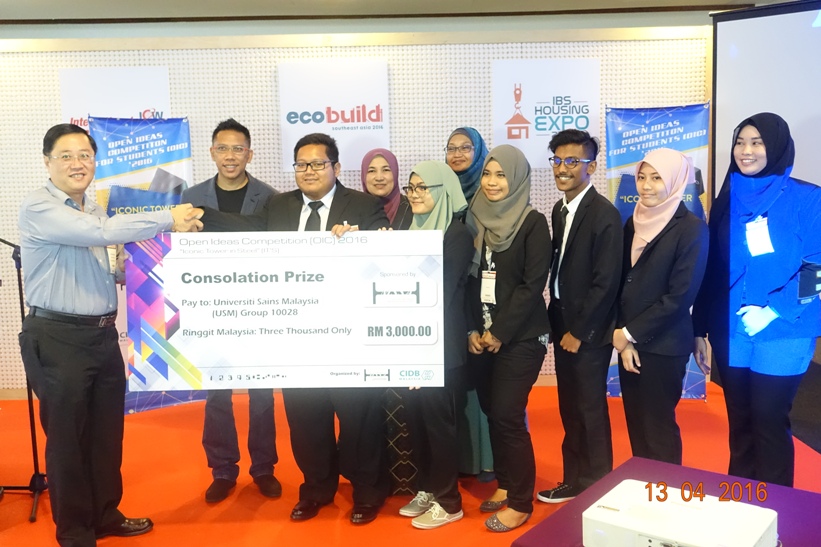 Congratulations to the USM teams that won 2 consolation prizes (RM 6,000) for Malaysian Structural Steel Association (MSSA) Open Idea Competition, 2016. It was held at Kuala Lumpur Convention Centre on 13 April 2016. The ceremony was held in conjunction with the Construction Industry Development Board (CIDB) Malaysia's International Construction Week 2016. The Consolation Prize award carried a cash prize of RM 3000 each. USM teams are the collaboration of the undergraduate students from School of Civil Engineering and School of Housing Building and Planning. USM sent 11 groups for this competition and 3 of these groups were shortlisted for the top 10. This competition opens to 17 universities including the public and private higher learning institutions. The winning teams were supervised by Assoc. Prof. Wan Mariah Wan Harun from School of Housing, Building and Planning and Assoc. Prof. Dr Fatimah De'nan from School of Civil Engineering. The award ceremony was attended by Dean of School of Housing, Building and Planning, Prof Dr. Aldrin bin Abdullah.
The primary intention of this design competition is to provide students of architecture and structural engineering in Malaysia with the unique opportunity of collaborating in a building design that employs steel as the main structural and finishing material. It is for these architectural and structure engineering students to grasp the fact that building design does not lie within the jurisdiction of the architect or structure engineer individually, but it is the means for both to arrive at a meaningful realization of both architectural fascination and structural actualisation. It aims to bridge the gap between the teaching of architecture and structural engineering. It is also for students to appreciate that the realisation of a building project depending on the work of the various consultants within the project team and not the work of an individual.
This year's MSSA/CIDB student competition was called for the design of the Iconic Tower in Steel (IT'S). This competition is opened to the students in architecture in collaboration with under-graduate students of civil and structural engineering. A team from UiTM won the first (RM 10,000) and third prizes (RM 5,000), and UTM won second prize (RM 7,000).
LIST OF WINNERS:
CONSOLATION PRIZE
GROUP CODE 10015 – UNIVERSITI SAINS MALAYSIA
NAJWA HARZANI BINTI EZUMI HARZANI
MUHAMMAD IKHWAN BIN MOHD ARIPIN
MOHAMMAD FIRAS BIN AZMI
NUR IZZATI BINTI ISMADI
ONG ZHI JIA
NURUL JULIYANA BINTI DINAIL
GROUP CODE 10028 – UNIVERSITI SAINS MALAYSIA
MOHAMAD YUSUF BIN MISLAM
SITI FAIRUZ BINTI ZULKIFLY
NUR SYAFIQAH BINTI SAIFUL AZMI
ZAFIRA NUR EZZATI BINTI MUSTAFA
SHARVIN A/L M POOVANESHVARAN
NORAZILAH BINTI MOHAMED PAID
This competition was organized by Malaysian Structural Steel Association (MSSA) and sponsored by CIDB Malaysia, Bina Puri Holdings Bhd and Ann Yak Siong Hardware Sdn Bhd.
Written by:
Assoc. Prof. Dr. Fatimah De'nan
MSSA Education Committee
27 April 2016