1st , 2nd and consolation prizes for USM Architecture and Civil Engineering Students in the Malaysian Structural Steel Association: Open Ideas Competition Award 2015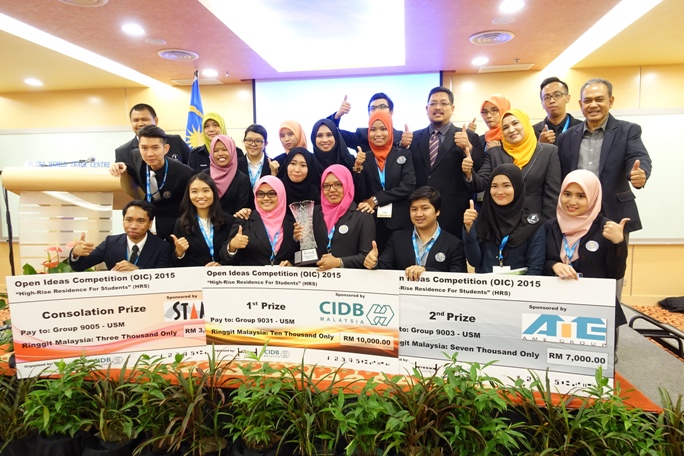 Congratulations to the USM teams that won the 1st, 2nd and consolation prize for Malaysian Structural Steel Association (MSSA) Open Idea Competition, 2015. It was held at The Putra World Trade Centre in Kuala Lumpur on 11 Sept 2015. The ceremony was held in conjunction with the Construction Industry Development Board (CIDB) Malaysia's International Construction Week 2015. The First Prize award carried a cash prize of RM10,000 and a trophy, second prize RM 7000 and Consolation Prize RM 3000.
USM teams are the collaboration of the undergraduate students from School of Civil Engineering and School of Housing Building and Planning. USM sent 10 groups for this competition and 5 of these groups were shortlisted for the top 10. This competition opens to 17 universities including the public and private higher learning institutions. The winning teams were supervised by Assoc. Prof. Dato' Ar. Dr. Ku Azhar Ku Hassan from School of Housing, Building and Planning and Dr Fatimah De'nan from School of Civil Engineering. The award ceremony was attended by Dean of School of Civil Engineering, Prof. Dr Ahmad Farhan Mohd Sadullah, Assc. Prof. Dr. Taksiah A. Majid (Deputy Dean Academic) and Ar. Ahmad Zakiiulfuad Yahaya representing School of Housing, Building and Planning.
The primary intention of this design competition is to provide students of architecture and structural engineering in Malaysia with the unique opportunity of collaborating in a building design that employs steel as the main structural and finishing material. It is for these architectural and structure engineering students to grasp the fact that building design does not lie within the jurisdiction of the architect or structure engineer individually, but it is the means for both to arrive at a meaningful realization of both architectural fascination and structural actualisation. It aims to bridge the gap between the teaching of architecture and structural engineering. It is also for students to appreciate that the realisation of a building project depending on the work of the various consultants within the project team and not the work of an individual.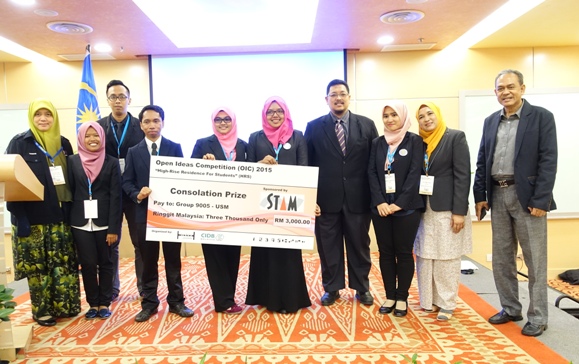 This year's MSSA/CIDB student competition was called for the design of the High-rise Residence for Students. A short list of ten entries was earlier selected consisting of five from USM, one from UM, one from IUKL and 1 from combination UITM and UTP. A team from UM won the third prize and combination UITM and UTP won the consolation prize.
LIST OF WINNERS:
1st PRIZE
GROUP CODE 9031 - UNIVERSITI SAINS MALAYSIA
Nurul Nabilah bt Hazri (Team leader)- Architecture
Tan Boon Im- Architecture
Che Norashikin Bt Ahmad Azmi- Architecture
Lai Vincent- Architecture
Mohd Abqari bin Abd Wahab- Civil Engineering
Khairunnisa bt Zulkifly- Civil Engineering
2nd PRIZE
GROUP CODE 9003 – UNIVERSITI SAINS MALAYSIA
Ahmad Faruq bin Zulkifli (Team Leader)- Architecture
Fatimah bt Khalid- Architecture
Koid Jia Miin- Architecture
Nigel Lum Kah Khri- Architecture
Adilah bt Kamaruzaman- Civil Engineering
Junaidah binti Abdullah - Civil Engineering
CONSOLATION PRIZE
GROUP CODE 9005 – UNIVERSITI SAINS MALAYSIA
Andy Sufri bin Mohamad Johari (Team leader) - Architecture
Muhamad Nur Alif bin Nasir- Architecture
Nur Idatun Nadia bt Mohamad Noor- Architecture
Sharifah Hasnul Izzaty bt Sayed Iskandar- Architecture
Nur Fatin bt Mustafa- Civil Engineering
Ruzainah bt Ahmad Taufik- Civil Engineering
This competition was organized by Malaysian Structural Steel Association (MSSA) and sponsored by CIDB Malaysia, AME Engineering Industries Sdn Bhd, Siam Yamato Steel, Ann Yak Siong Hardware Sdn Bhd and STAM Engineering Sdn Bhd.
Written by:
Dr Fatimah De'nan
MSSA Education Committee