PPKA Students Awarded Most Efficient Team in Highest Early Strength Concrete Cube Competition (HESCCC 2014)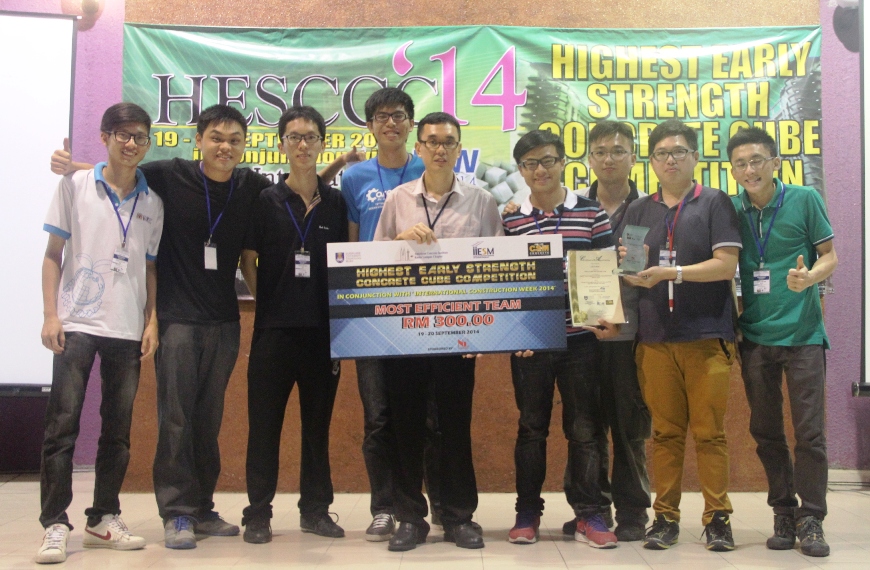 Students of the School Civil Engineering (PPKA) have again made USM proud for their success in the Highest Early Strength Concrete Cube Competition (HESCCC 2014) held at Faulty of Civil Engineering, Universiti Teknologi MARA on 19-20 September 2014 in conjunction with International Construction Week. A team composed of Liew Kok Kei, Chong Kim Wee, Lau Pi Hung and Vincent Soh Hang Guat has won Special Award for Most Efficient Team.
The other participating team from PPKA composed of Chiew Lerk Qing, Cheong Kah Win, Chun Jan Bong and Tee Yi Cong. Both teams have demonstrated exemplary level of creativity, problem-solving skills and teamwork.
The competition was jointly organised by American Concrete Institute Kuala Lumpur Chapter (ACI-KL Chapter), Institute for Infrastructure Engineering and Sustainable Management (IIESM), Universiti Teknologi MARA (UiTM) and Concrete Society of Malaysia (CSM). A total of 45 competing teams from universities, polytechnics and industries took part in this yearly competition. The objectives of the competition were to encourage students, researchers and industry players to put on their creativity and technical skills to produce very high strength concrete at early age and optimum cost, create awareness on the versatility in producing high early strength concrete and serve as an interaction platform among students, NGOs and concrete industry players.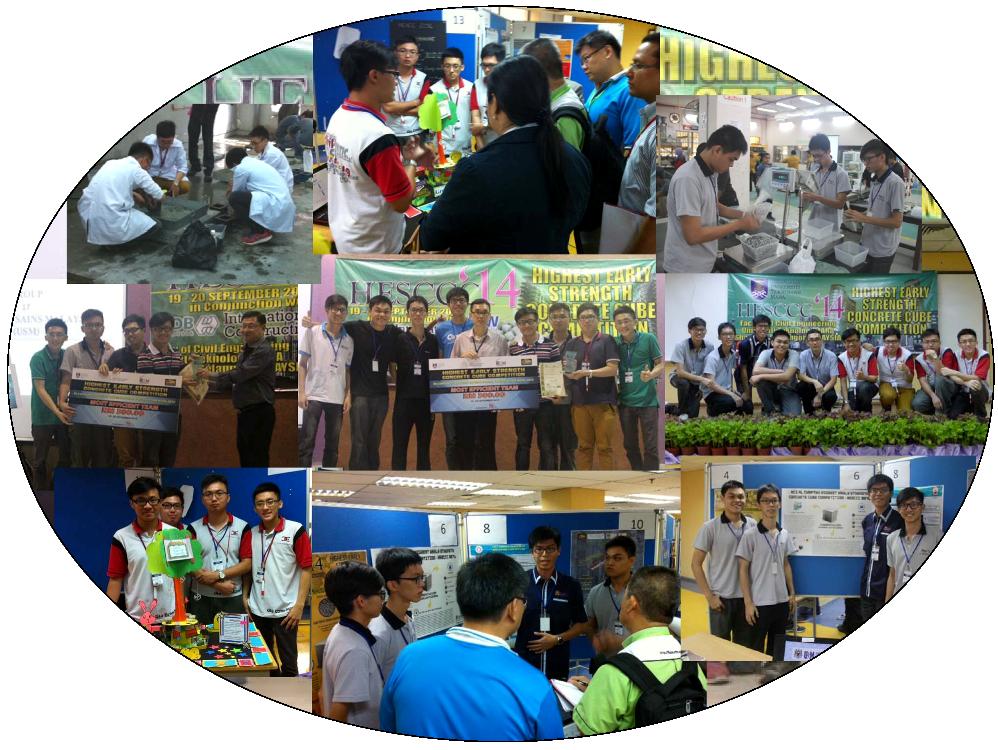 Each team was given a maximum 3 kg of Portland cement to produce six liter concrete for three cubes. The maximum cementitious content allowed to be used was 400 kg/m3. Additives was allowed but all types of fibers, chloride based accelerators and geopolymer based materials were prohibited in this competition. The participants were given 45 minutes to mix and cast the specimens. The concrete cubes were tested after 24 hours of casting. Judging was based on strength of concrete cube, presentation and sustainability in material selection.
This competition was a worthwhile activity for students to exhibit their attainment of program objectives. It required students to apply engineering knowledge learnt from the classroom, conduct comprehensive investigation, design practical solution and carry out experiments to solve complex engineering problem using limited resources. Students were required to work in a team and present their design process and solution to the appointed judges. It truly gave them a hands-on experience on solving a practical problem within a given time frame with the definite help from theories learned during lectures.
Congratulations and well done to both participating teams. Sincere gratitude goes to all PPKA staffs for their contributions in the competition. It is hoped that the success of this competition will spur students to strive for excellence in any endeavour and bring honour to the School and the university in the near future.