Bachelor of Engineering (Honours) (Civil Engineering)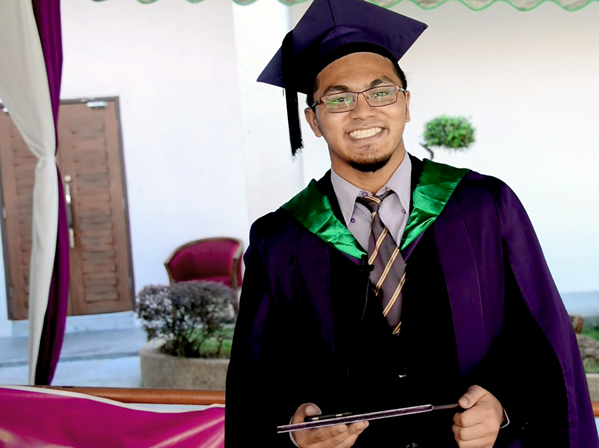 "Civil Engineering program in USM is very well structured, in a sense that every teaching and learning must obey the Outcome Base Education (OBE)"
"Thankfully, I have gained precious experiences and memories while studying at the School of Civil Engineering and Universiti Sains Malaysia (USM)" read more
What is Civil Engineering?
Civil engineering is the oldest professional engineering discipline that deals with the planning, design, construction, operation and maintenance of the built environment.Civil engineering is a challenging and exciting profession. Civil engineering is the broadest engineering discipline that covers
Who are the Civil Engineers?
Civil engineers are creative and innovative professionals who solve problem of people and shape the world for a better and sustainable future. They design and construct buildings, bridges, roads, railways, ports, airports, dams, power plants, underground structures, water treatment plants and so on. Civil engineers work in a task force from multi-disciplinary background.
Programme Overview
Bachelor of Engineering (Hons) (Civil Engineering) is 4 years programme and aims to produce qualified civil engineers who are competent, creative, highly dedicated graduates and able to find solutions to diverse problems through innovative thinking. Modules include all disciplines in the civil engineering. All courses that are being offered in the civil engineering programme blend together the theoretical and practical aspects of learning according to the relevant needs of the industrial and public sectors. Students will also be equipped with fundamentals of business practice such as finance, marketing and management as well as co-curricular activities so that the students could adapt themselves well to the current state affairs. The School has formally adopted the Outcome Based Education (OBE) system since the 2006/2007 academic session to fulfil the Engineering Accreditation Council (EAC) requirements for undergraduate engineering programme in Malaysia.
Programme Structure (click to view curriculum structure)
Students are required to complete at least 135 units, with 'pass' grade for all the courses as follows.
| | |
| --- | --- |
| Course | Units |
| Core | 108 |
| Elective | 12 |
| University requirements | |
| Compulsory | 12 |
| Co-curriculum/optional/skills | 3 |
| | |
| Total | 135 |
Professional Recognition
The Bachelor of Engineering (Honours) (Civil Engineering) programme has been awarded 5 years full accreditation by the Board of Engineers Malaysia (BEM) from 2014 to 2018.
Our Facilities
The School of Civil Engineering provides complete laboratory facilities to produce civil engineers that are highly knowledgeable and innovative. Besides academic staffs who are experts in their respective fields of specialization, this school has fully equipped engineering laboratories. These include;
- Heavy structures laboratory
Light structures laboratory
Concrete laboratory
Environmental laboratory
Geotechnical laboratory
Highway laboratory
Traffic laboratory
Hydraulics laboratory
Geomatics instrument portal
Drawing room/studio
Computer laboratory
Fabrication workshop
Career Opportunities
Civil engineering graduates will have a diverse and challenging career. There is currently an abundance of employment opportunities for civil engineers in Malaysia and internationally. Civil engineers have a wide job prospect in both government agencies and private sectors as consultants, contractors, developers, entrepreneurs, managers, educators etc.
Entry Requirement

The Undergraduate Handbook AS 2016 2017