Ciptaan USM Menang Anugerah di Bangkok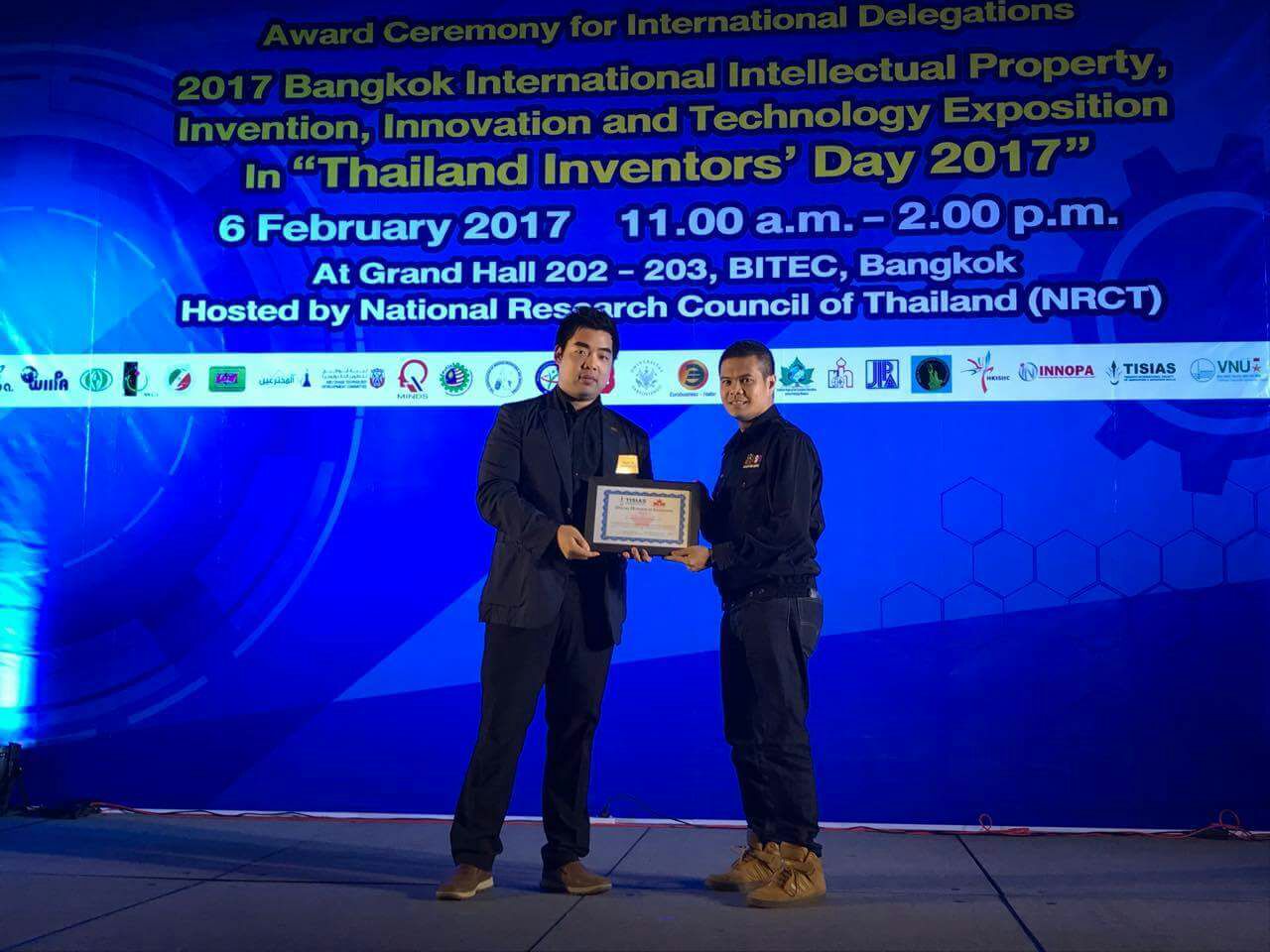 NIBONG TEBAL, 8 Februari 2017 – Pensyarah dan pelajar Universiti Sains Malaysia (USM) berjaya memenangi anugerah di 2017 Bangkok International Intellectual Property, Invention, Innovation and Technology Exposition bersempena dengan Thailand Investors' Day 2017 baru-baru ini.
Melalui ciptaan NR-Ag Ball: Degradation of Dyes Using Natural Rubber in Water Treatment Tank, kumpulan yang terdiri daripada gabungan pensyarah dan pelajar dari Kampus Induk dan Kampus Kejuruteraan USM ini berjaya merangkul tiga anugerah iaitu Special Innovation Award (Canada), Special Award (Korea) dan Medal Awards (Gold).
Menurut Pensyarah Pusat Pengajian Sains Kimia, Dr. Noor Hana Hanif Abu Bakar selaku Penyelia Projek, program yang diadakan adalah untuk mewujudkan kerjasama di antara pencipta dari Thailand dan antarabangsa.
"Program ini adalah hasil kepada usaha mereka sebagai satu kumpulan selama dua hingga tiga tahun ini", katanya.
"Malah, saya berpendapat bahawa usaha pelajar-pelajar yang terlibat berhak dipuji memandangkan kami selaku pensyarah cuma menyelia, tetapi mereka yang telah melakukan yang terbaik dalam penghasilan produk ini," tambah beliau.
Peserta lain yang turut serta adalah Dr. Mohd Remy Rozainy Mohd Arif Zainol dari Pusat Pengajian Kejuruteraan Awam serta tiga orang pelajar dari Kampus Induk dan Kampus Kejuruteraan iaitu Nur Atiqah Mohamad Khudri, Nurul Hasliza Hassanuddin dan Asma' Zainal Abidin.
Mohd Remy selaku penyelidik bersama berkata, program ini merupakan program usahasama diantara Pusat Pengajian Kejuruteraan Kimia dan Pusat Pengajian Kejuruteraan Awam dengan kerjasama dari Lembaga Getah Malaysia (LGM).
"Saya sentiasa menggalakkan pelajar-pelajar terutamanya pelajar tahun akhir untuk menghasilkan produk yang baharu sebagai projek mereka dalam meningkatkan kualiti kepada proses pembelajaran," katanya.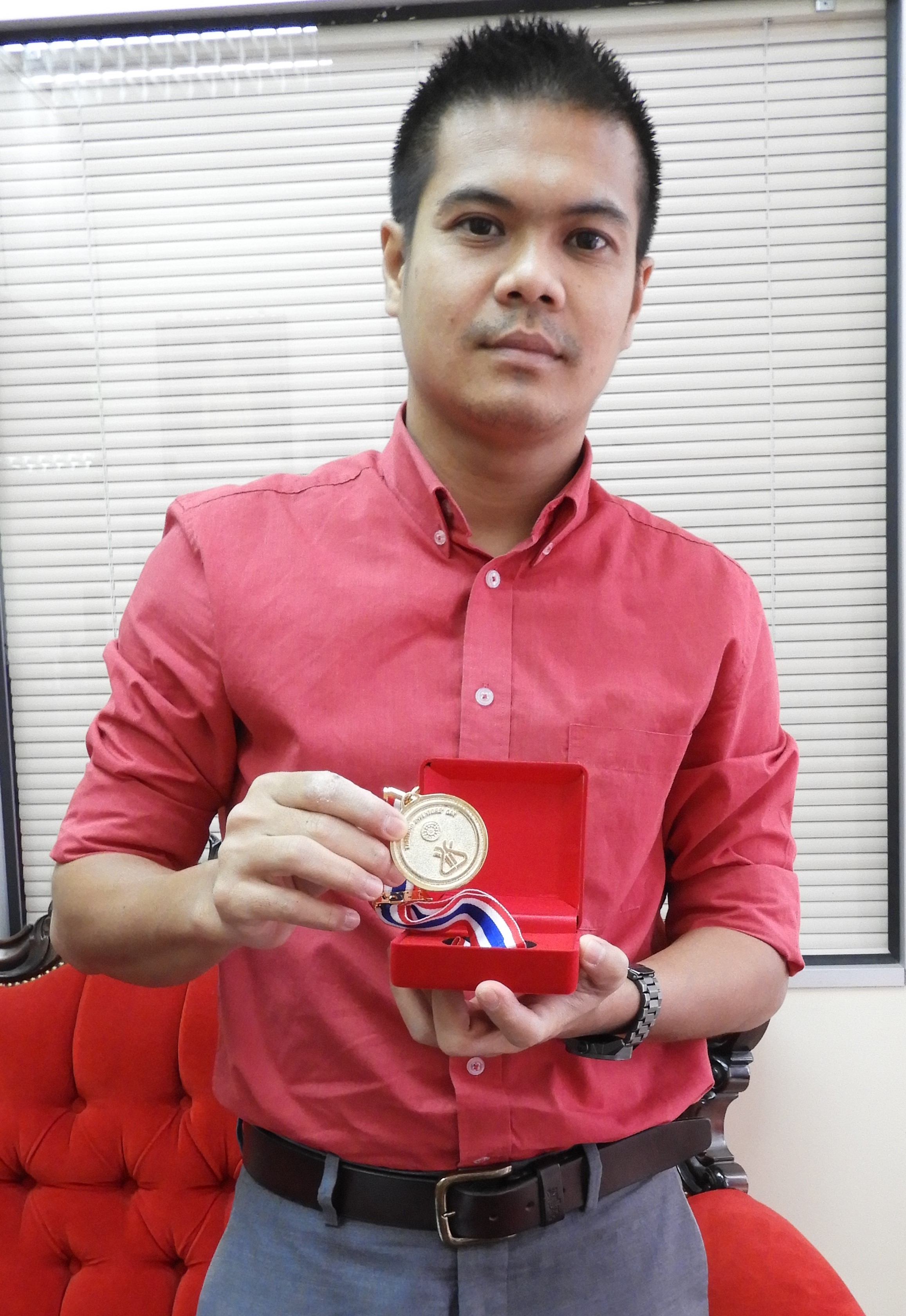 "Sebagai jurutera, setiap pelajar hendaklah sentiasa menghasilkan sesuatu yang akan menjadi pemangkin kepada lebih banyak ciptaan-ciptaan baharu mereka di masa akan datang," tambah Mohd Remy.
Menurutnya lagi, melalui kolaborasi serta peluang yang diberikan oleh USM serta LGM ini secara langsung dapat menjadi saluran berpotensi untuk menggalakkan pelajar-pelajar kita di sini untuk terlibat dengan projek-projek berkaitan pembelajaran, pada masa yang sama menjadi laluan kecemerlangan mereka di dalam dan luar negara.
Program yang diadakan di Bangkok International Trade & Exhibition Centre (BITEC) kali ini menyaksikan lebih dari 1000 penyelidik dari lebih 20 negara terlibat mempertandingkan ciptaan masing-masing.
Selain Malaysia, program yang berlangsung selama empat hari bermula 2 Februari 2017 ini turut menyaksikan penyertaan dari beberapa buah negara dari Asia dan Eropah antaranya Taiwan, Thailand, Indonesia, Iran, Jepun dan China.
Teks: Siti Faizah Abd Halim / Foto: Mat Noor Bin Md Zain & Dr. Mohd Remy Rozainy Mohd Arif Zainol